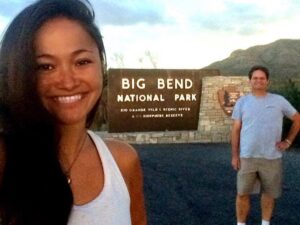 Mexico – Visual and Historical perspectives
Day 28
Today's "parks", Big Bend (National Park) and The Alamo (National Historic Landmark), provide unique perspectives.
On Day 27 we drove to the park that claims the best stargazing due to being the most remote from light:  Big Bend National Park.  The night sky provided a different type of light show – lightning.  Setting our alarm for every 2 hours, just in case the sky cleared, we finally got up to the remaining sprinkles and to see the other site we came for:  the Rio Grande River.
With 3 enormous buzzards watching our movements, we enjoyed watching the night rains as a briskly flowing, full of debris, beautiful river.  On the other side:  Mexico.  Visually and naturally the same mountain range.   Ironic, to see how the country pieces fit together and then just hours later to be on the hallowed ground and historical dichotomy of The Alamo in the U.S./Mexico past.  Live and Let Live.