LAND & SEA SCUBA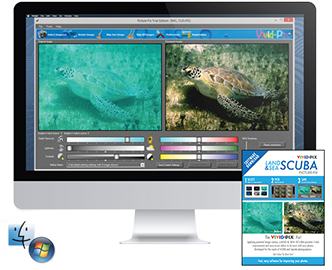 Patented image science provides 1-click improvement to LAND & SEA SCUBA photos.
Due to the unique lighting conditions and buoyancy challenges of taking colorful, sharp, bright pictures underwater, Vivid-Pix LAND & SEA SCUBA software was developed for the unique needs of Divers.
Underwater photographers use lighting, lens filters, and difficult-to-use software to improve their images...
Utilizing LAND & SEA SCUBA, it is now Fast & Easy to improve your images.