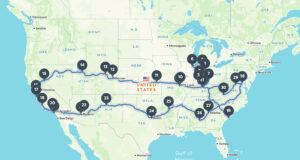 Vivid-Pix awarded second patent – brings faded photos back to life
Vivid-Pix RESTORE software adds document restoration
Alpharetta, Ga. – Vivid-Pix, the inventor of easy-to-use, image-improvement software, will reveal the latest improvements to Vivid-Pix RESTORE software for Mac and for Windows at RootsTech, Feb. 27 – March 2, 2018 in Salt Lake City, Utah. Vivid-Pix RESTORE now improves the color and contrast of scanned records, letters and documents, along with scanned, faded images and digital photos.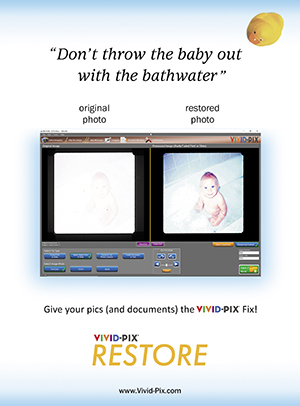 Vivid-Pix® RESTORE will be available to view and to purchase at RootsTech at booth 1538 and at partner booths, including Flip-Pal®, Shotbox™, and Kindex®, as part of a comprehensive image-capture, memento-capture, improvement and family history sharing solution. To download a free trial, go to https://vivid-pix.com/restore/free-trial.html
"This year at RootsTech, we're encouraging attendees to see for themselves how Vivid-Pix RESTORE brings old photos and documents back to life with a few simple clicks," says Rick Voight, CEO, Vivid-Pix. "You can try the software and receive 10 free image fixes – no credit card required – to see how quickly and easily our patented technology can dramatically improve faded photos and documents."
The U.S. Patent Office recently awarded a patent to Vivid-Pix for the image processing used to improve images. This patent is for the automatic correction of faded images and covers the techniques used in Vivid-Pix RESTORE.
Voight and business partner, Randy Fredlund, had a combined 47 years of experience from Eastman Kodak Co., and brought that company's "You Press the Button, We Do the Rest," philosophy to the design of Vivid-Pix RESTORE. Now, with the expanded capability of document restoration, Vivid-Pix RESTORE is the one-stop solution for family historians, genealogists, archivists, photo organizers, hobbyists and more to bring back to life scanned prints, slides, glass plates, tintypes, newspaper clippings, family memoirs, holiday cards and more. 
About Vivid-Pix
Vivid-Pix designs, creates and delivers Fast, Easy and Affordable Imaging Software. Since launching in 2012, Vivid-Pix has advanced its product to earn the support and respect of business leaders and photographers in over 100 countries. Co-Founder Randy Fredlund has more than 150 digital-imaging patents and has extensive experience in Research, Development and Commercialization, enabling him to translate theory into practice.  Co-Founder Rick Voight has created billion-dollar businesses through Product Development, Sales and Marketing for Eastman Kodak and Hewlett-Packard. The Vivid-Pix Team is a far-flung group of excellent people who deliver software that "Give your pics (and documents) the Vivid-Pix Fix!"