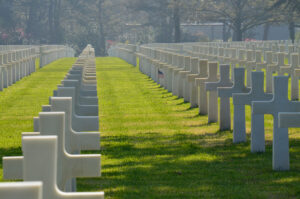 For many Americans, Memorial Day is the start of summer vacations, barbecues and outings. It's the capstone of a three-day holiday weekend. Memorial Day, however, is much more than that for millions of Americans who remember those who died in service to the country. 
Memorial Day is not just a great time to get the family together for a barbecue, but also to share stories and remembrances of those who have served. This is especially important for younger family members who may not have met their warrior ancestors. These stories can bring to context to historical events and conflicts. 
Photography is important to remembering these events. Sharing and preserving family moments with pictures is exactly what photography is about.
There's lots of ways to use photos to remember service members; here are some ideas: 
Build a scrapbook dedicated to service members tours, including bootcamp graduation photos, graduation photos in uniform and snapshots sent from base postings. Add medals, ribbons and other tokens to the scrapbook.

Capture the stories of the fallen hero. Talk to the parents, siblings and friends of the service member to add another dimension to their sacrifice. Record them on audio or video to preserve the emotion. 

Don't forget certificates, letters and other documents. In a scanning or digitizing project – even if the primary ingredient is photos – there are probably letters, certificates, documents, news clippings and other items that help tell the story. These can fade or are on paper more fragile than photos, so take care when scanning them. 
As you look through the family photos and you come across faded photos and documents, use Vivid-Pix RESTORE to bring back the color and contrast. This easy-to-use Windows and Mac software has received rave reviews from everyday users looking to bring life back into their photo memories.