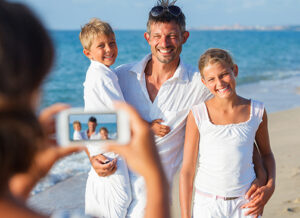 In preparation for the vacation season and summer fun, Vivid-Pix and professional photographer and instructor, Sandy Sondrol, went to a tropical paradise and tested more than a dozen smartphones, camera, and underwater housings to help you get better vacation photos.
View/Download the photo comparison chart
Get Better Vacation Photos with this Free eBook
This extensive, first-time review of automatic settings, manual settings, internal filter modes, and external filters, across such a wide range of cameras, was made possible by creating an apparatus that allowed all cameras and phones to take the same photo under identical circumstances. This free ebook shows how easy it is to get photos from smartphones that are as clear and sharp as cameras – and, which cameras are able to get better results, too.
"Our goal for this project was to create an article to help sort out which phone or camera is best for your vacation, with a particular focus on the feature that attracts much of the attention . . . taking them into the water, many without the necessity of additional waterproof protection." says Rick Voight, CEO of Vivid-Pix
Camera Comparisons
This free ebook includes many of the biggest names in amateur photo and underwater photography:
Apple iPhone 7
Backscatter (color correcting filters for GoPro)
Canon, SL1, G7X11
Cathy Church's Photo Centre
Cayman University Divers
Digital Imaging Reporter
DryCase, (phone case)
Fantasea, (housings with Canon and Sony cameras)
Fujifilm XP90
GoPro Hero 4
Ikelite, (housings with Olympus and Canon cameras)
Lobster Pot Dive Center
Olympus TG-4
Nikon Key Mission 170
Ricoh WG-M2
Samsung Galaxy 7 Edge
Sealife, Micro HD, DC2000
Sony, RX100V, RX100IV
Sunset House
The Imaging Alliance
Ultralight Control Systems
ValsTech, (LenzO iPhone housing)
Margaux Maes (our mermaid)
View/Download the photo comparison chart
Photo Editing Software
Included in this ebook is a review on how to improve your photos with Vivid-Pix's Land & Sea or Land & Sea SCUBA software. Free trials are available for immediate download, or for purchase at Vivid-Pix.com, Apple iTunes and Vivid-Pix affiliate stores.
View/Download the photo comparison chart
---