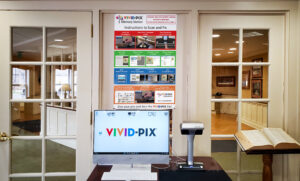 Friendly Senior Living Community Installs Vivid-Pix Memory Station & Storytelling Classes to Improve Lives & Mental Health of Seniors through Photography
Rochester, NY, April 28, 2022 — The home of Kodak, Rochester, NY, is synonymous with photography. In recognition of this and addressing the needs of their residents, Rochester, NY-based Friendly Senior Living announced today that they have installed the Vivid-Pix Memory Station photo digitizing and restoration system to help seniors reminisce and reconnect with loved ones through photography to help reduce dementia. Provided by support from the Kluge Foundation, the program also includes Vivid-Pix "Tell Your Story" Photo Storytelling Classes to help seniors delve into their past. Founded in 1849, Friendly Senior Living communities provide exceptional living and interactive programs to their senior residents, recognized by Newsweek as the #1 nursing home in New York State 2021-2022.
Glen Cooper, President & CEO of Friendly Senior Living, said, "We strive to stay abreast of ways to enhance the lives of our residents and caregivers. We met Vivid-Pix a few years ago and they intrigued us. Following their dementia education study, programming creation, and Vivid-Pix Memory Station announcement, we decided to install into our Cloverwood Senior Living community. Early indication is that residents are enjoying this new feature in our library."
"By engaging with residents and listening to their insights, we create content that helps them learn and use technology," described Rick Voight, CEO, Vivid-Pix. "Computers are intimidating. By listening to users, creating clear instructions and motivation, we engage residents to do something they want to do – pull photos from the closet and relive cherished memories. We also get to hear wonderful stories!"
Free and Low-Cost Education & Memory Station
Vivid-Pix continues to expand free and low-cost Vivid-Pix Education, adding to Tell Your Story and Reminisce classes in March with genealogy and senior experts Laura Hedgecock, President, GeneaBloggers and Joshua Freitas, author and Chair, National Institute for Dementia Education. Studying the past of seniors through photography is accomplished with Memory Station, a one-click scanner/software bundle that helps people digitize, restore, and save precious print images without sending them to a scanning service. Memory Station provides supreme simplicity to bring printed photos and documents back to life for future generations.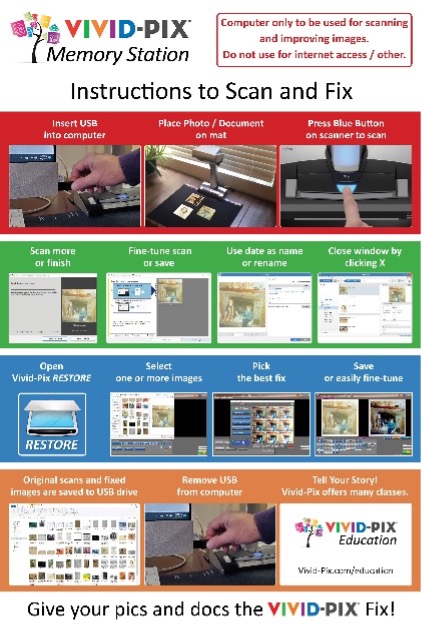 About Vivid-Pix
Vivid-Pix® helps people relive photos and documents by connecting individuals, families, and friends with their most treasured memories, restored through Vivid-Pix AI technology. The U.S. Patent Office has awarded two patents to Vivid-Pix for its image processing techniques used to automatically correct faded images. Vivid-Pix founders brought Kodak's "You Press the Button, We Do the Rest" philosophy to the design of Vivid-Pix RESTORE. Vivid-Pix RESTORE is available at: https://vivid-pix.com/restore/buy.html, with a free trial at: https://vivid-pix.com/restore/free-trial.html. For more information about Memory Station, see: https://vivid-pix.com/memorystation and website: www.vivid-pix.com.
About Friendly Senior Living
The Friendly Senior Living continuum of caring communities includes Cloverwood, an active independent senior living community in Pittsford; Glenmere at Cloverwood, which offers assisted living, enhanced assisted living, and memory care; Linden Knoll, an independent senior living apartment community in Brighton; the Lovejoy Transitional Care Center which offers short-term rehabilitative care at the Friendly Home; and the Friendly Home, a skilled nursing home in Brighton offering 24-hour care, rehabilitation, memory care and hospice care. The Friendly Home has been ranked #1 out of over 600 nursing homes on Newsweek's list of 2021-2022 Best Nursing Homes in New York State. For more information, visit friendlyseniorliving.org.
Contact:
Karen Thomas/Eva Yutani, Thomas PR
631-549-7575
Emails: [email protected] / [email protected]
http://www.thomasprsocial.com

Photo:
Vivid-Pix Logo: http://www.thomas-pr.com/136/photos/vividpixlogo.html
Friendly Senior Living Installation: https://mcusercontent.com/fdc54bb7eb51ad9ea6bcb705e/_compresseds/15b41b82-38dc-288a-243d-3cc65926fb0a.jpg
Vivid-Pix® Memory Station Instructions: https://mcusercontent.com/fdc54bb7eb51ad9ea6bcb705e/_compresseds/b8c1faee-b980-d053-dbce-bc269fa9f7b9.jpg
Vivid-Pix website: https://vivid-pix.com/
Vivid-Pix free trial download: https://vivid-pix.com/restore/free-trial.html