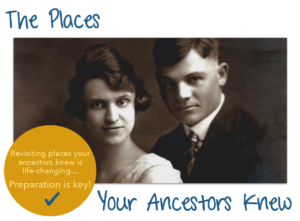 Your Heritage
What's inside you isn't just your DNA, but also the life experiences passed to you by your ancestors – which were often played out all over the world. Revisiting the places your ancestors knew is life-changing, and preparation is key.
Start With Goals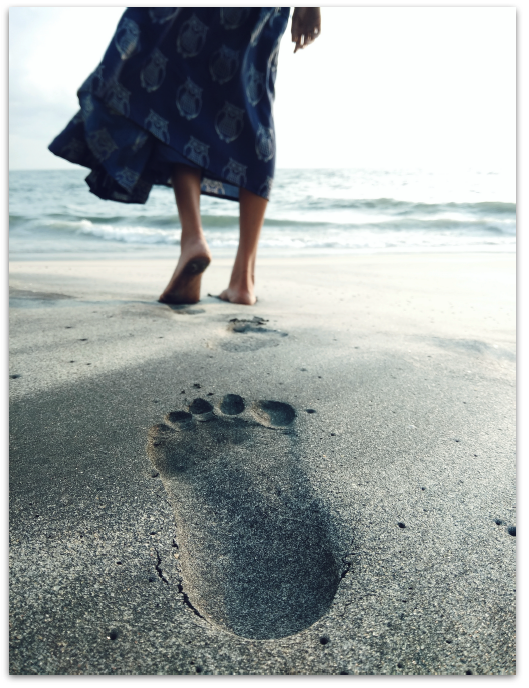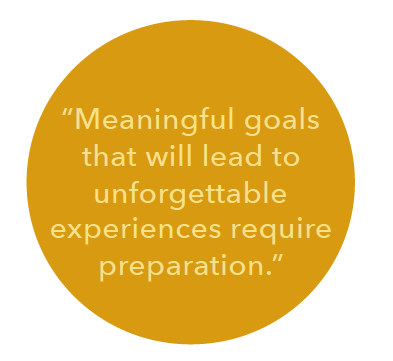 Before you buy a plane ticket, you first need clear goals for your trip. By visiting your ancestor's homeland, are you hoping to extend your family tree by searching records in an archive or church? Are you hoping to visit the places where your ancestors lived and worked? Are you hoping to connect with distant cousins? Are you planning to include "tourist activities" as part of your family tree travels? All of these are meaningful goals that will lead to unforgettable experiences, and each requires preparation.
Records – Do Your Homework

If one of your travel goals is to learn more about your ancestors and their origins, make sure you have searched the records already available online or on microfilm in your home country. There is nothing quite as disappointing as making the journey to a distant archive only to realize that the records you were hoping to consult were already available online. Before you go, make a list of the types of documents you want to search, and identify where those documents are held. In addition, contact the archive ahead of time to ensure that the records are accessible and that the archive will be open. Many archives also have published catalogs of their holdings which you can access online.
If you feel overwhelmed, a genealogy research firm can help you create a step-by-step research plan, and they may have suggestions for record types and collections you might not have considered. They can also help you connect with archivists onsite in preparation for your visit.
Places – Walking in Their Footsteps
Visiting the places where your ancestors worked, socialized, worshipped, and lived is life-changing – though tracking this down can be tricky. Over time, many changes may have taken place on the street where your ancestor lived – street names and numbering systems may have changed, buildings have been destroyed and rebuilt, and even acts of war or nature may have created significant changes in the landscape your ancestor saw every day.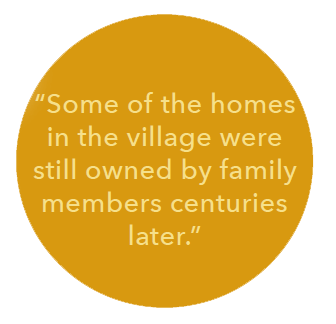 Using maps and gazetteers, you can track down key places to see, despite the years that have passed between you and your ancestor. And, with a little imagination and some historical details, it's not too hard to picture the click-clack of horse and cart or the structure of homes that have long since gone.
Legacy Tree Genealogists has helped many clients prepare to visit their ancestors' old stomping grounds. Sometimes, a client's quiet street has been replaced by a shopping mall, and sometimes, not much has changed at all. Sr. Researcher, Paul Woodbury, had a remarkable experience himself where not much had changed at all – "Through working with a local parish priest, I was able to visit my ancestor's village in France. I found that some of the homes in the village were still owned by family members centuries later, and others had been abandoned for decades. One of the homes was decorated with engravings made by my fifth greatgrandfather in the early 1800s, which detailed the creator's genealogy back five generations!"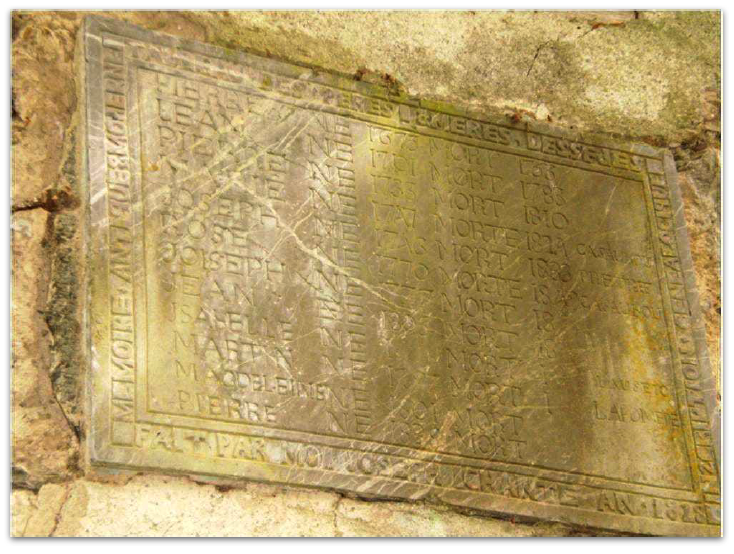 Even if you can't pinpoint an exact place of residence for your ancestor, churches, schools, and places of work were all important parts of daily life. Visiting these places, too, can be rewarding. On a research trip to Denmark, one of Legacy Tree Genealogists' clients found amazing murals in a 16th century parish church where his ancestors were baptized, married, and buried. Though the tombs where they were actually interred had long since been reused, it was still exciting to see the scenes and paintings that they experienced on a weekly basis – some of which were quite gruesome!
If you want to know more – some records that may provide information about locations of residence include maps, tax records, civil registration records, censuses, and land records. Collaboration with other living family members and even distant cousins can also help to pinpoint the exact location of an ancestral homestead.
Stories – Oh, The Places You'll Go!
The places your ancestor frequented have many stories to tell. Although your ancestor may not have been the star of those stories, local events provided the backdrop of your ancestor's life. Before you visit, you can discover the stories of these events through newspapers and local histories. With a little digging, you may be able to eat at the pub your great-grandpa frequented, visit the farmer's market where your ancestors sold produce, or tour the site where your ancestor worked.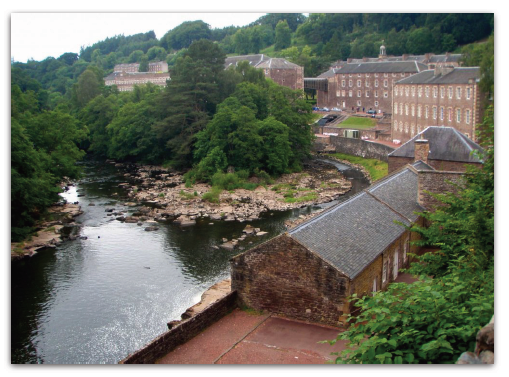 The New Lanark woolen mills in Scotland.
In preparation for a recent genealogy tour, one of Legacy Tree Genealogists' clients discovered that his ancestors worked at the New Lanark mill in Scotland. In recent years, this mill has been renovated and turned into a UNESCO World Heritage site with detailed working displays about the weaving process and what life was like in New Lanark when the mill was in operation. While visiting, the client also had the opportunity to visit a nearby archive and find records about his ancestor's time in the mill. Even if the mill or factory where your ancestor worked is no longer standing, search for nearby sites that could give an idea of what their life was like.
People – Making Family Connections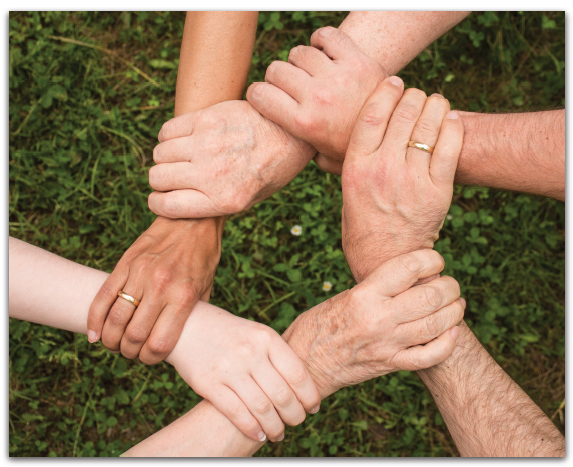 Connecting with living cousins who remained in the area where your ancestors lived is an amazing experience. To identify living relatives, consider searching online family trees relating to your own ancestors. If your ancestors appear in someone else's family tree, they may have a distant relationship to you. Genetic testing can also connect you with cousins who share DNA from your common ancestors. 
In one recent research trip, Legacy Tree connected a client with a distant cousin. This cousin was the last living great-grandchild of the common ancestors shared with the client, and her family had been unaware of the fate of their American family since the time the ancestor left for the U.S. in 1870. She was delighted to learn of their exploits in the American West and was excited to share the stories she knew of her own family who remained in Europe. Through this connection, the client obtained photos of family members who remained in their home country – photos which the American side of the family had never seen.
Hiring a genealogist and a travel planner are the two most efficient ways to prepare for a journey to your ancestral town.
Know Before You Go
Don't Leave the Details to Chance
Hiring a genealogist and a travel planner are the two most efficient ways to prepare for a journey to your ancestral town. Although any previously researched information may point you in the right direction, it's the important, often overlooked details that can make or break a trip. For example, several towns and last names may sound similar in the region you intend to visit, and this simple mistake could cost you thousands of dollars, hours of time, and unnecessary disappointment.
By hiring a professional researcher you are guaranteed that the information provided is verifiable and accurate, leaving nothing to chance. Genealogists have the ability to go onsite into your family town prior to your arrival or contact local family members. They also have access to documents that cannot be found online.
If you hire a genealogy research firm like Legacy Tree Genealogists for help, it is important to note that most research preparation takes 10-12 weeks (sometimes longer), so consulting with a genealogist early should be on your list of things to take care of before booking plane tickets.
Once you have the necessary details surrounding your family history in order, it is imperative to fully understand the town(s) which you intend to visit. Nothing is guaranteed while traveling abroad. This is especially true in small villages, which often only open shops, city halls, and restaurants for a small portion of the day. This is when a travel planner comes into play.
Travel planners are familiar with the ins and outs of the country — the who, what, where and how that must be coordinated in order to make your journey come to life.
It's also important to understand that in countries such as Italy there are strict laws on who can walk you through historical sites or museums. This is an important benefit of working with a travel professional. They can prepare your trip with both insider knowledge and licensed guides, who speak the language and are familiar with the rules and regulations of the region in which you are visiting. Travel planners can easily organize your transport, accommodations, extended trips to nearby areas and more, leaving you to soak in the experience of walking where your ancestors have walked.
Recording
Today's Memories Become Tomorrow's Legacy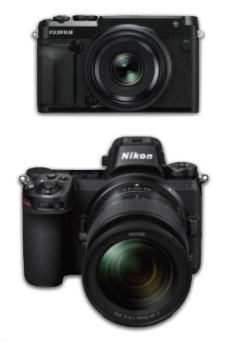 While visiting your ancestral town, you'll most certainly want to capture these once-in-a lifetime memories. Prepare for your adventure in advance by considering how you are going to document your experience. Do you tend to take photos and videos with your phone, or a camera These are the questions you need to ask to ensure you are prepared and won't miss a moment. For a journey this significant, you may want to consider having both your smartphone and a "real" camera. A "real" camera is one that allows you to change lenses like a DSLR or mirrorless, or a long-zoom fixed lens camera. If your phone is older, you'll want to consider upgrading it to a later model since that will include a more sophisticated camera. This way you will be happy with the quality of your pictures and video once you return and want to share your journey with others.
While a smartphone delivers portability and the ability to instantly share, it is limiting when it comes to zooming in when things are far-away, taking portraits with the focus on someone's face, and low-light scenes. In such instances you will find success with a real camera.
Memories Become Legacy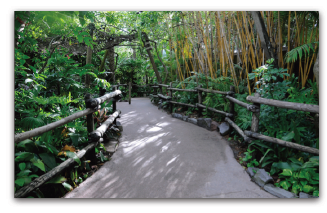 If you are serious about making great pictures and videos during your trip, a mirrorless camera is a great option. These are cameras that deliver many of the features of a larger DSLR, but are lighter and more compact. The ability to change lenses is also an advantage with a mirrorless camera over your phone. If you are only looking for one lens to manage on your trip, you can consider an all-in-one zoom lens. This will allow you to go from a nice wide angle setting around 18mm to a super zoom around 200mm. At the wideangle setting, you will be able to capture amazing landscapes that could include the significant places of your ancestors, while the 200mm setting will let you bring details closer in and give you breathtaking portraits of family members you are meeting for the first time. A close portrait of their face with a soft out of focus background may reveal features that you find in yourself or your family back home.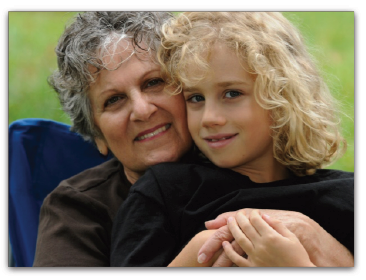 Discovering your past can be a once in a lifetime experience. Make sure you are equipped to capture it all– not only for yourself but for generations to come.
If you do acquire a new camera, be sure to give it a test run or two before your trip. Go to a local venue of interest and use that camera to capture the best images available of the place. When you get home, download the pictures and see how you could use them to tell a story about the place. What have you missed? What could you have done better when capturing the images? See if you can improve on another test run.
Story Telling – Reliving and Handing Down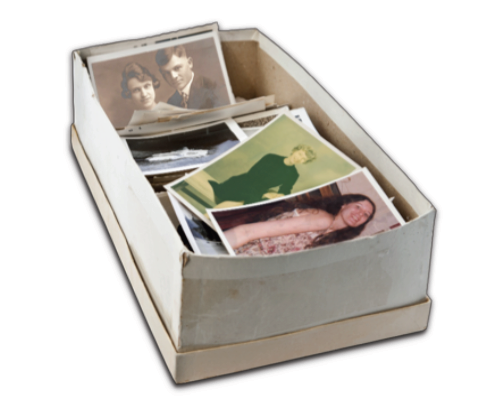 Once you've returned from your trip and successfully captured the photos and stories from your journey, how do you want to remember and share them? The creation of photobooks that chronicle the adventure is a great and lasting way.
Remember that all stories have a beginning, a middle, and an end. Think about the planning you did for the trip, leaving home, and arriving in your homeland. Keep a journal – by jotting down a few notes and looking at your photos along the way, you'll remember the context and how you felt.
As your adventure is part of your family history, start the story by including some lineage photos and documents as background. It's become quite easy to scan and restore old photos and documents to really expand the story – for yourself and for those that you pass along the stories.
Select images and documents that shape and tell the story.
If you're like most, you have hundreds or even thousands of photos and documents that help tell your family story.
Unfortunately, time has likely aged them. By scanning these items and safely storing them, they can be protected from loss and additional fading. Improved documents make details more legible and photos are brought back to life. AND, they provide a great beginning to your story!
Preservation – Restore, Relive, Share
There are options for improving faded photos and documents. Retail and mail-away services provide Restoration services. As this can be costly, you'll likely want to utilize these services for "extra special" images. Since you have MANY photos and documents, you may want to consider software that will allow DIY image improvement. Software's range from free, monthly license, and inexpensive restoration specific software like Vivid-Pix RESTORE (www.vivid-pix.com/restore).
Why Faded Document and Text Algorithm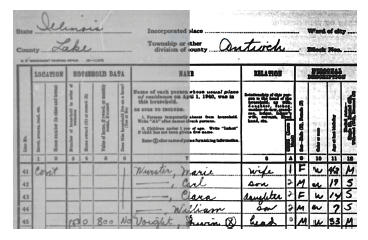 Old letters and historical documents fade over time. Letters provide important information regarding who we are, who our ancestors were, and when exploring old records, the keys to unlock our lineage mystery. Unfortunately, these letters, documents, and records are often not legible – that's what RESTORE fixes. It's Faded Document and Text algorithm is able to adjust the contrast between the writing and the background. A picture says a thousand words – and sometimes the words are VERY important.
Printing – Photobooks, Photo Albums, Enlargements
Now that you have digitized and improved your images (and backed-up on a secure hard drive and/or online), it's time to make sure that you're able to easily view, share, and hand down to future generations.
Though the internet and all the organizations that may store your images are wonderful for immediate sharing, there is always the question of longevity. You may wish to store and share in the "cloud", but printing multiple copies of the account and images of both your journey and your ancestors is the time-tested solution for preserving what you have created for future generations.
Photobooks provide flexibility to incorporate photo and text images in varying sizes to emphasize and to tell the story. They also provide an easy way to tell the story chronologically – through time, through lineage, etc.
Similar to Photobooks, Photo Albums are a quick way to print standard sized images and incorporate tickets, brochures, and other items from your trip.
Social media sites like Facebook have made it easy to see many photos, however, often it's hard to find those "special" photos – photos that you enjoy seeing often. That's why a 5"x7", 8"x10" or larger framed photo is a great way to remember special times and people – all with the convenience of it being on a desk, shelf, or wall.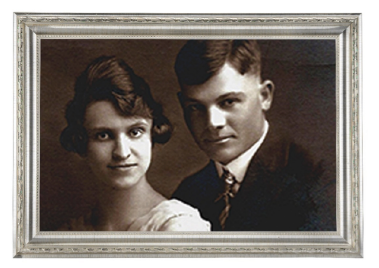 So, what's inside of you? Connecting with what makes you you – your heritage – is unforgettable. Make the most of it by preparing for and preserving your experience of a lifetime.
About Legacy Tree Genealogists
Legacy Tree Genealogists is the world's highest clientrated genealogy research firm. Founded in 2004, the company provides full-service genealogical research for clients worldwide, helping them discover their roots and personal history through records, narratives, and DNA. Based near the world's largest family history library in downtown Salt Lake City, Utah, Legacy Tree has developed a network of professional researchers and archives around the globe. More information is available at www.legacytree.com.
About The Imaging Alliance
The Imaging Alliance is a non-profit organization representing the bold and diverse imaging industry, with a membership that encompasses manufacturers, software and application developers, retailers, media, photographers and others. It brings together critical assets from two respected, long-time industry associations: the Photo Manufacturers and Distributors Association (PMDA) and the Photo Marketing Association International (PMAI). The Imaging Alliance actively promotes the economic growth and sustainable development of both current and future imaging applications. Its members work together to create a sense of community through philanthropic activities that support visual communications. For more information on the Portraits of Love Project, or to team up with The Imaging Alliance, please visit www.theimagingalliance.com
About Travel Italian Style
Cassandra Santoro is the CEO and Founder of Travel Italian Style. As a personal trip planner, Cassandra is an expert in Italian travel with a focus on authentic and inspiring experiences.
About Vivid-Pix
Vivid-Pix designs, creates and delivers Fast, Easy and Affordable Imaging Software. Since launching in 2012, Vivid-Pix has advanced its product to earn the support and respect of business leaders and photographers in over 100 countries. Co-Founder Randy Fredlund has more than 150 digital-imaging patents and has extensive experience in Research, Development and Commercialization, enabling him to translate theory into practice. Co-Founder Rick Voight has created billiondollar businesses through Product Development, Sales and Marketing for Eastman Kodak and Hewlett-Packard. The Vivid-Pix Team is a far-flung group of excellent people who deliver software that "Give your pics (and documents) the Vivid-Pix Fix!" www.vivid-pix.com.