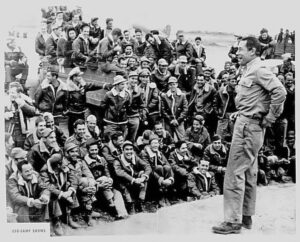 Nov. 11 is a day that we reflect and give thanks for our brave military heroes.
Every year on Nov. 11, millions of people across the U.S. take time to reflect and give thanks to the countless Americans over the centuries who have fought bravely for our country in times of war, kept the peace, and engaged in humanitarian efforts as well. At Vivid-Pix, the activity to remember and honor our military heroes has particular significance: CEO Rick Voight is father to an active-duty daughter, and as a company, we take the greatest pride in supporting veterans' service organizations. Part of this includes volunteering and donating to the Patriots for Disabled Divers organization, a group of volunteers who work with scuba diving centers and the Professional Association of Diving Instructors to help physically and psychologically affected patriots when they come home.
 This Veteran's Day, you can do your part by remembering to thank those in the military, our veterans, and to remember our servicemen and women through photos. Here are a few ways to help memories of active, retired and fallen military members live on:
Create a digital photo album of active duty photos
Many photos of veterans in military regalia – on bases domestically or abroad – taken before the modern digital era may only exist in physical photo albums, unseen by the greater public. While it is the personal choice of the families if they want to keep a private record of relatives who have served, digitizing and sharing these photos with the world via a simple website or social media photo album is a great way to show the world the pride you feel for military loved ones. 

Donate copies of photos directly to veterans organizations
So many veterans don't just get critical services from veterans support organizations – they also are an invaluable resource to connect with fellow servicemembers and be part of a greater community. By providing veteran service groups copies of photos of your military loved ones, you could be providing retired vets the opportunity to get a glimpse of their compatriots in civilian life. This can be especially meaningful if your military relatives have passed away.
Restore photos of servicemembers to their full glory
Your commitment to remember the men and women who fought to preserve our freedom won't fade, so why should your photos of them? Vivid-Pix's RESTORE software can help you restore, relive and share your cherished memories of your family members who may have served in our nation's military. From everyone at Vivid-Pix, we keep all members – past and present – of the U.S. armed forces in our hearts and minds and pray for the safe return of those currently on active duty. 

---
Share your photos
A picture says a thousand words – and the words surrounding the picture helps tell the story. Please "Share your photos" and story so that we can include them in our blog.
Please send these to [email protected]