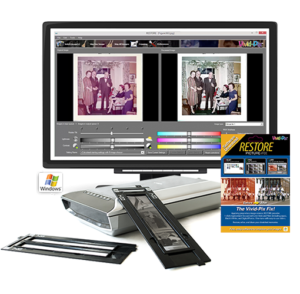 Software brings back color and clarity to old photos with one click
"With digital technology, pictures can be scanned and improved by businesses specializing in genealogy, scrapbooking, and photography right in the shop. Vivid-Pix RESTORE is also suitable for hobbyists and amateurs. — Rick Voight, CEO, Vivid-Pix"
Atlanta, GA (PRWEB) February 03, 2016
Vivid-Pix, the inventor of underwater-image improvement software, has expanded its portfolio with the release of Vivid-Pix RESTORE for Windows.
Using the same technology platform as the acclaimed Vivid-Pix SCUBA and products, Vivid-Pix RESTORE improves scanned images from prints and slides easily and quickly. The photo restoration software is now available for $79.99 from the Vivid-Pix website and from select resellers.
Due to light, heat, humidity and other conditions, the dyes in photo prints and slides fade over time – even those printed recently on modern equipment. Vivid-Pix RESTORE was created to restore these fading images to their original look and, with advanced technology, many will even look better than the day they were taken!
"I'll never forget watching a woman drop off a treasured print at a camera store, and the clerk told her it needed to be sent out to be 'fixed.,'" says Rick Voight, CEO, Vivid-Pix. "With digital technology, pictures can now be scanned and improved right in the shop by businesses specializing in genealogy, scrapbooking, and photography. Vivid-Pix RESTORE is also suitable for hobbyists and amateurs."
"RESTORE can improve scanned color slides and prints (including sepia), B&W photos, and even digital photos from mobile devices and cameras," adds Randy Fredlund, CTO, Vivid-Pix. "RESTORE software analyzes every picture, provides a correction based upon the requirements of that image, and with as little as one-click, your photo can display more color and clarity than when it was first printed. We've also included easy-to-use tools to fine-tune your images and to begin organizing your photos as well."
In conjunction with E-Z Photo Scan, Vivid-Pix RESTORE software will be available to view and to purchase this week at RootsTech, in Salt Lake City, Utah, at booth 1109.
"Vivid-Pix image-enhancement software is easy to use on images from prints and slides," says Richard "Rick" Lippert, president, E-Z Photo Scan. "The simple grid layout makes choosing the best photo fast and easy. The photo improvement is amazing."
For more information about Vivid-Pix RESTORE, visit http://www.Vivid-Pix.com.
About Vivid-Pix
Vivid-Pix is a partnership between Randy Fredlund, CTO, and Rick Voight, CEO, to design, create and deliver Fast, Easy Imaging Software. Since launching in 2012, Vivid-Pix has advanced its product to earn the support and respect of business leaders and photographers. Fredlund has more than 100 digital-imaging patents and has extensive experience in Research, Development and Commercialization, enabling him to translate theory into practice. Voight has created billion-dollar businesses through Product Development, Sales and Marketing for Eastman Kodak and Hewlett-Packard. The Vivid-Pix team is a far-flung group of excellent people who deliver software that helps customers Share the Experience with Vivid-Pix!