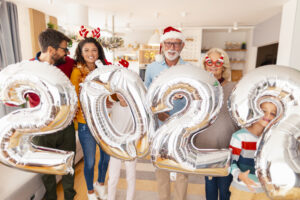 Reunions Will be Hybrid This Year: Combination of In-Person & Virtual
Reunions magazine Helps Family, School, and Military Reunions
Safely Re-live the Past & Make New Memories
Savannah, GA, December 7, 2021 – Reunions magazine, the leading online reunion planning and celebration publication for 30 years, announced today the "7 Best COVID-19 Travel Tips" list for holiday travel, compiled by Carole Terwilliger Meyer, author of Miles of Smiles: 101 Great Car Games & Activities. In the December 2021 edition, Reunions magazine provides useful tips on how to stay safe on the road during the holidays, as well as ideas on how to set up reunions with safety in mind; and education, resources, and event planning ideas for family, class, and military reunions.
Stay Safe on the Road

Millions look forward to the joy of reuniting with family and friends every year, even more this year due to last year's separation caused by the pandemic. According to Reunions magazine, some of the top ways to stay safe when traveling include:
When Driving:

Bring a kit with disinfectant wipes, hand sanitizer, and snacks to reduce stopping along the way.
Pack plastic sandwich bags to hold your mask and more.
Plan ahead on where to stop: for example, locations that provide clean restrooms.

Hotels & Planes:

Check ahead about safety protocols.
Open hotel windows, when possible, and air out the room for a few hours.
Use a plastic sandwich bags to cover germy TV remotes and other surfaces.
Pack your own pillows.
Connected Virtually and In-Person During the Holidays
There will be an increase in travel this holiday season, however a lot of people are uncomfortable hosting and visiting in-person (vaccinated or not). Options include virtual and hybrid (in-person and virtual) reunions. "Reunions will take many forms this year," said Rick Voight, CEO, Vivid-Pix and Publisher of Reunions magazine. "People are balancing safety concerns with longing to be together. Some people will reunite with just a few people or host full in-person family gatherings; some will have virtual 'Zoom Reunions,' and others will host hybrid reunions — so we will see hybrid physical/distance reunions becoming more prevalent during the holidays and the coming year."
Free Vivid-Pix Classes "How-To Zoom" & "Gathering Traditions" Teach What to Do When Together
To assist people with getting together and what to do when they are together, Vivid-Pix has created two sets of free classes: How-To Zoom and Gatherings Traditions. The how-to series provides instructions on how to connect, literally, with step-by-step log-in, settings, and more information; and how to connect, emotionally, by sharing photos and memories online through "Gathering Traditions," which also explains how to have engaging conversations with all ages, and for those interested in family history/genealogy, record time-capsules for reliving memories, created with Kenyatta D. Berry, host of the Genealogy Roadshow on PBS.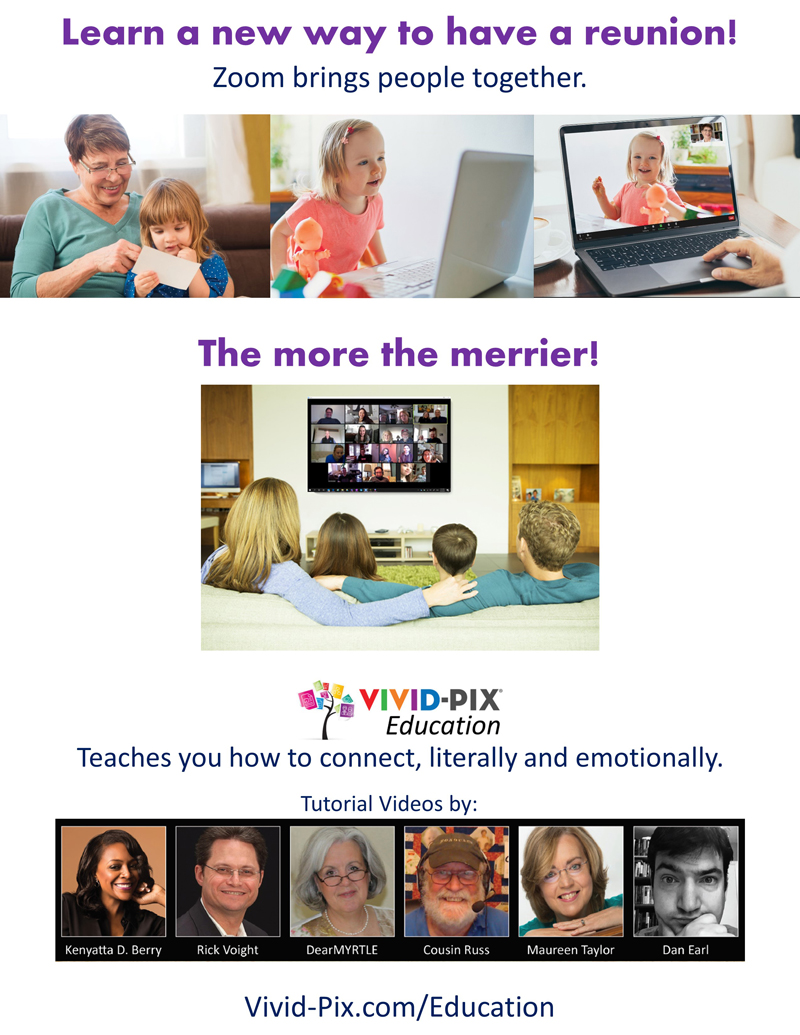 Vivid-Pix also offers other great ways to stay connected virtually during the holidays through gifting photos restored with Vivid-Pix RESTORE software, which can be printed and sent to friends and family as cherished holiday gifts (info at: https://www.vivid-pix-prints.com/), and the Vivid-Pix Holiday Software BOGO is available through the year-end, so everyone can get Vivid-Pix for themselves and give one as a gift (value $99.98 – for only $49.99), perfect for friends and family who love photos or sharing family history — info at: https://www.vivid-pix.com/bogo-restore.
About Reunions magazine

Acquired by Vivid-Pix in February 2021, Reunions magazine is the leading reunions resource to assist family, class alumni, and military reunion participants relive the past and make new memories. For 30 years, Reunions magazine has provided easy access to ideas, features, planning, and education for reunions and reunion planners alike. For more information, see https://reunionsmag.com/.
About Patented Vivid-Pix Photo Restoration Software & Education to Relive and Share Memories

Vivid-Pix provides helpful genealogy, family history, and gathering education at https://vivid-pix.com/education.html to relive and share cherished memories. Vivid-Pix RESTORE patented AI software automatically restores faded old black and white, sepia, and color photos and documents from a wide variety of image types and provides image organization, editing, and saving. The U.S. Patent Office has awarded two patents to Vivid-Pix for its image processing techniques to automatically correct images.
Vivid-Pix RESTORE is available for Mac and Windows for $49.99 at: https://vivid-pix.com/restore/buy.html with a 10 Free-Fix Trial without credit card required at: https://vivid-pix.com/restore/free-trial.html. See Vivid-Pix RESTORE in action at: https://Vivid-Pix.com/restore. Vivid-Pix was founded by Rick Voight and Randy Fredlund, who have a combined 47 years of experience from Eastman Kodak Co. They brought Kodak's "You Press the Button, We Do the Rest" philosophy to the design of Vivid-Pix RESTORE software.

For more information on Reunions magazine and Vivid-Pix, see www.reunionsmag.com and www.vivid-pix.com.
Contact:
Karen Thomas/Eva Yutani, Thomas PR
(631) 549-7575
Emails: [email protected] / [email protected]
http://www.thomasprsocial.comhttp://www.thomaspr.com
Photos:
Vivid-Pix/Reunions magazine Logo: http://www.thomas-pr.com/136/photos/vividpixreunionsmagazinelogo.html
Vivid-Pix Education graphic: https://mcusercontent.com/fdc54bb7eb51ad9ea6bcb705e/_compresseds/3885172a-d7a3-08ea-68f2-b3af2ccdcf0d.jpg