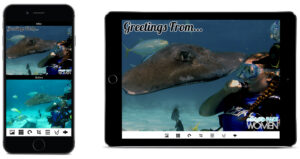 Saturday, July 15, is PADI Women Dive Day and to celebrate, Vivid-Pix offers free software and, when you use it, you'll raise money for a good cause.
Vivid-Pix is commemorating the contributions of women scuba divers by raising money for two great causes in conjunction with the Professional Association of Diving Instructors (PADI) Women Dive Day Saturday, July 15. The third annual global event strengthens and supports female divers through adventure and comradery.  
"PADI Women Dive Day is a day we celebrate around the globe. We're pleased to offer our patented Vivid-Pix LAND & SEA SCUBA image-correction software free to anyone who downloads the iPhone/iPad app. It will create custom Souvenir Postcards featuring the PADI Women Dive Day logo," according to Rick Voight, Vivid-Pix, CEO.
Now through July 31, 2017, when divers share their images and use one of two custom hashtags on Facebook, Instagram, or Pinterest (#VividPixFixWDHOF or #VividPixFixRainbow), the company will make a donation to the Women Divers Hall of Fame or History of Diving Museum respectively.
Link here to download the free apps:
Diving Museum: 
---
"We are really looking forward to seeing the fun pictures from our weekend events that include a Pioneering Women in the Sea presentation, yoga, delicious BBQ and dives with Rainbow Reef Dive Center," describes Jack Fishman, Marine Conservation Coordinator at Rainbow Reef

"In addition we have specialized tours focusing on Pioneering Women going on at the Museum. Visitors can also try on a helmet, sit in a replica diving bell and enjoy other hands-on exhibits. Many great places to take photos and post from Land & Sea! Plus this is a wonderful outreach that helps support the Underwater Photography Exhibit!," states Lisa Mongelia, Executive Director at the History of Diving Museum
---
Jill Synowiec, Divers Incorporated, is looking forward to Saturday's fun and fundraising: "I am eager to see all of the photos taken at the Women Dive Day event at White Star Quarry on Saturday! Saturday will be a fun-filled day including a meet and greet with several WDHOF Members, a catered lunch, raffles, and a silent auction. You can even sign up to become an Associate member of the WDHOF.  I am excited to work together with White Star Quarry and Women Divers Hall of Fame to raise money for the WDHOF Scholarship Fund and its 33 scholarships and training grants."
"Thousands of photos will be taken not just on Saturday, but all weekend long. LAND & SEA SCUBA is available for Mac, Windows, and iOS devices, providing a simple and effective way to enhance pictures and create photo memories that will last a lifetime. We look forward to seeing all the 'Vivid-Pix Fix' colorful photos, smiling faces, and underwater encounters." Voight said. "You don't have to be a woman diver to enjoy the Vivid-Pix product. Thousands of men and women around the world have already discovered the 'Vivid-Pix Fix', and we're excited about adding many more this coming weekend and in weekends to come."
For any questions, please contact [email protected].