For Father's Day this year, I decided to put a digital spin on an analog favorite and retouch some old photographs of my family. Since my dad still has a flip phone, using Instagram or Snapchat filters were out of the question. For this task, I used Vivid-Pix's RESTORE software to correct and freshen up these dusty memories.
 My dad has always been the practical type. Just as his support was consistently constructive over the years, presents from him (whether it was for birthdays, graduations, Christmases, etc.) were always functional.
Naturally, I have tried to reciprocate by giving him equally useful gifts. The same year I got a hand-held vacuum for my new apartment's house warming, I returned the favor by sending him three months worth of Netflix. For his parental guidance, I gave him a gateway to constant online entertainment.
In the weeks leading up to Father's Day, it was difficult brainstorming what my dad might want when he had everything he needed already. However, with both of his daughters living so far away, I figured he might need to relive what it was like to be a father 24/7 all over again!
First, I had to do some sleuthing and ask someone on the inside (my mom) to dig through the garage, find some physical snapshots, scan them into her computer, and email me the image files. Once I got to work, I felt guilty that she had to do so much work when it only took me a couple of minutes per image to get the exact look I wanted via the RESTORE program.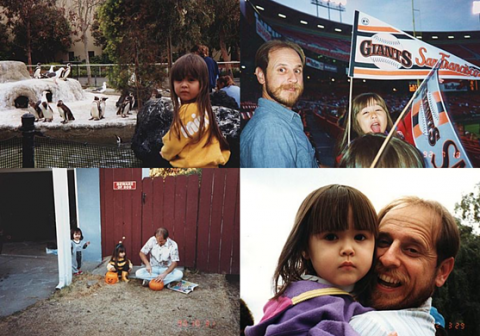 Not only will my dad get to see these pictures for the first time in years, he'll get to see them in a completely new light – literally! Hopefully by the next Father's Day, we'll have had countless opportunities to take additional photos and make more memories together.
#VividPixFix #TransformationTuesday #ThrowbackThursday #TBT #FlashbackFriday
---
Share your photos
A picture says a thousand words – and the words surrounding the picture helps tell the story. Please "Share your photos" and story so that we can include them in our blog.
Please send these to [email protected]