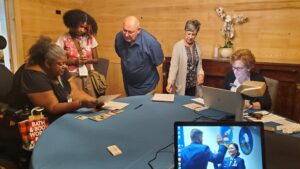 We strive to work towards something larger than ourselves and to live a life that provides health and security for our families, for our own family and for future generations. As I travel, listen, and meet people, I am inspired by how much people do for others. There are so many examples…
For example, the effort it takes to scan, transcribe, and index countless historical records. Many people involved in genealogy and family history research don't consider, "How did all this become available on the internet?" By speaking with your genealogical society, historical society, library, museum, archivist, … volunteers, you quickly realize that much of the work was done by people who are trying to do good by helping strangers. It's really quite wonderful.
Why do we do this?
At this time of giving, reflection, and planning for the future, we give to loved ones/friends/co-workers, make donations, and set resolutions. I believe it's part of who we are, part of our DNA – we are "pack creatures," part of a community, part of something bigger than ourselves.
Thank you for all you do.
Over the past several years, my company has strived to give and say thank you by supporting countless not-for-profit organizations in the genealogy and family history spaces. We will continue these activities and embark on a few more projects…
I live in Charleston, South Carolina – a lovely place with warm weather and warmer hospitality. Like most things in life, there are good things and bad things about our community. Charleston used to be the wealthiest city in the United States. But this distinction came with a priceless cost – over 50 percent of all slaves brought to America came through Charleston's ports.
While we cannot change the past, we can make a better future.
During the 18th and 19th centuries, the Middleton family was one of the most influential families in Charleston and the country. Their lineage had their good and bad aspects, but I like to see the good in people: A signer of the Declaration of Independence; creating the Middleton Place Foundation which since 2006 has held family reunions at Middleton Place for people descended from both European Middleton's and the African-American people they enslaved. Most recently, The Middleton Scholars Education Assistance Fund has created a scholarship program for descendants of enslaved African-Americans once enslaved by members of the Middleton family.
At this reunion, there is education, sharing and most importantly, healing. While listening to descendants' stories as we scanned and restored family heirlooms, one family's story stood out to me – having traveled across the country from Berkeley, California, a wonderful lady, her sister, and 17-year-old daughter shared their story and plans for the future. They shared a story of optimism and plans to pursue a medical career…in hopes of doing good for others and being part of something bigger than herself.
Wishing you and yours a merry holiday season!
Rick