Click on a question to see the answer.
Q: What are the differences between all the Vivid-Pix software products?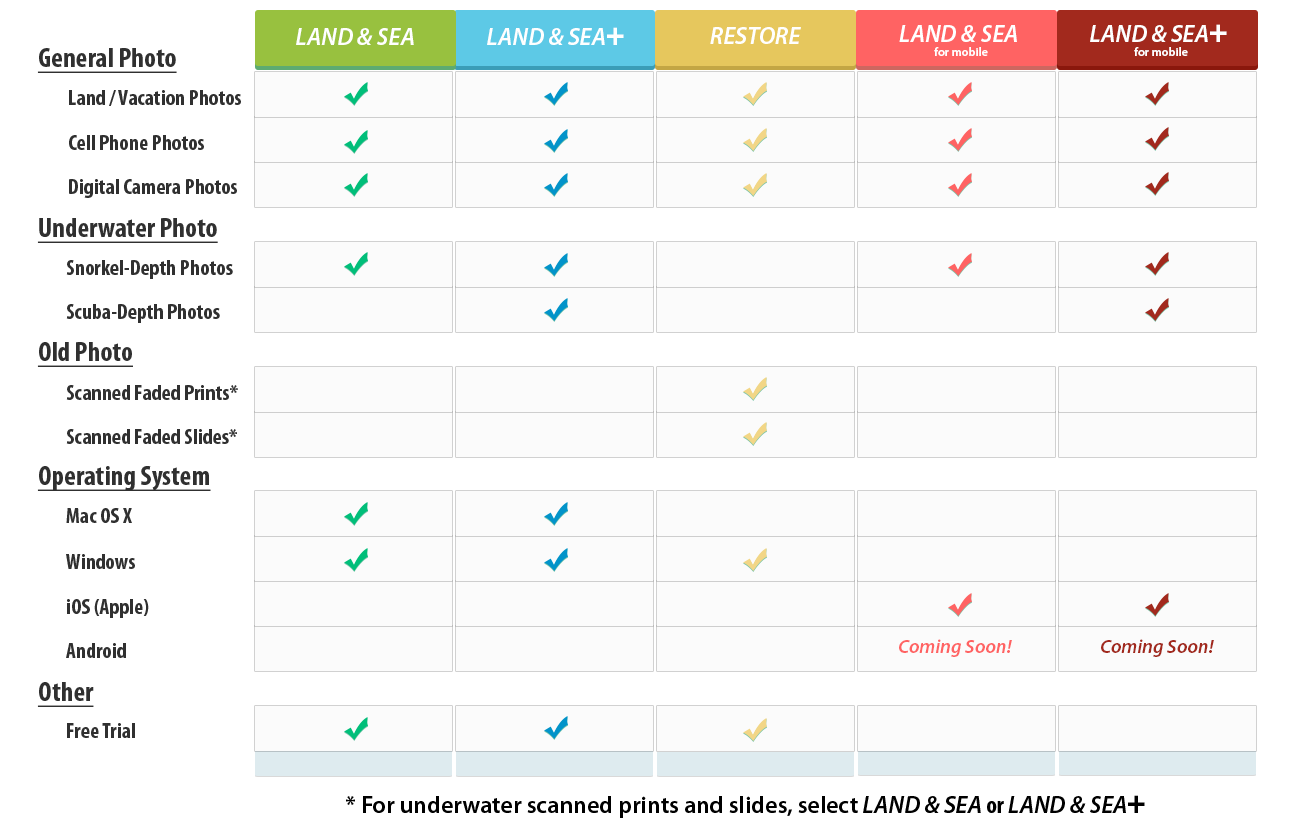 Q: What are the differences between LAND and SEA vs. LAND and SEA PLUS?
A:
There are numerous differences that we think merit the different versions and prices. The main difference is that LAND and SEA PLUS is a more powerful and versatile program designed specifically for the SCUBA market, while LAND and SEA is aimed more at the snorkel and vacation market. LAND and SEA PLUS can do everything LAND and SEA can do and much more. This program will be a paid upgrade from Picture-Fix (our previous SCUBA program), with significant feature improvements. All current owners of Picture-Fix will receive either a free upgrade (for recent purchasers), or a significant discount when upgrading.
Here are some specifics for LAND and SEA PLUS vs. LAND and SEA with all LAND and SEA PLUS features on the left.
Vividness slider (full control) — Three predefined settings
Full sharpness control in preferences — Three predefined settings
Full Depth Removal Color enhancement feature — Reduced depth removal abilities due to snorkel depth
2 licensed copies for one purchase price — One licensed copy
User control of saved file added suffix — "Vivid" suffix only
User can save and reapply particular settings — no saving of user specified settings
10 saved images during trial — 3 saved images during trial
Features not yet in LAND and SEA PLUS:
Choice to save a sharing resolution file
More TBD, including the "Emerald" depth removal control for green, algae-filled water.
Q: How do I download and install Picture-Fix on my PC or Mac?
A:
Please download our "Trial" step by step instruction sheet located on the Support tab under
Document Downloads
.
Q: How do I purchase Picture-Fix for my PC or Mac?
A:
Please download our how to "Purchase And Activate" step by step instruction sheet located on the Support tab under
Document Downloads
.
Q: After I purchase, download and install, how do I activate my PC or Mac software?
A:
Please download our "Purchase and activate from inside the Vivid-Pix Trial Application" located on the support tab under
Document Downloads
. The second half of that document will show how to activate your software.
Q: What does Picture-Fix do to my original image?
A: 1. Click on the image on the 9-up screen that looks the best to you in regards to Lightness and Contrast

2. If you wish to fine-tune the adjustment, we recommend doing in the following order
a. Use the Depth Removal slider. In most pictures, moving this slider to the right will improve the appearance if the selection from the 9-up has not been adequate. This slider should be moved to the right as far as you can without making the picture turn red or magenta.
b. Use the Lightness and Contrast controls interactively. In general, you want to get as much contrast as you can in the picture without "clipping" or "blocking up" the picture (losing detail by turning a portion of the image very dark or very bright). You can usually get the subject into a good viewing region by going back and forth between contrast and lightness with small changes. Often, the best result is gained by moving the lightness control to the right first and making the image a little bit too light, and then moving the contrast control to the right to compensate for the lightness and bring out detail in the image at the same time.
c. Once the Depth Removal / Lightness / Contrast controls are set, the tint of the picture can be adjusted with the three color sliders. Often there is too much blue in an picture. Adjusting the yellow/blue slider by moving to the left often fine-tunes an overly blue picture. As you work with multiple pictures, you will learn how the tint controls can improve various types of pictures.
d. If desired, you can adjust the level of Vividness by using the up/down Vividness slider and crop to the important part of the image.
3. Have Fun and Enjoy Reliving Your Dive!
Q: Does Picture-Fix correct a photo taken out of the water?
A:
While Vivid-Pix is specially designed for underwater pictures, it also does a very nice job on above water pictures as well! Some things you may notice are improved color balance, contrast, sharpness and details in your pictures.
You'll see an noticeable improvement in most "topside" photos when you adjust lightness and contrast to make the area of interest "pop."
Q: How long does the Trial Program last?
A:
Our download software will continue to operate in Trial mode indefinitely. However, you will need to Purchase and Activate in order to be able to Save images after the trial period has expired.
Q: Does Vivid-Pix fix Video's?
A: Vivid-Pix – Picture-Fix works on still pictures. We are working on an additional Vivid-Pix improvement product for video clips. There is no release date at this time.
Q: I can't find my saved pictures. Where are they?
A: Picture-Fix saves the files back to the same folder where the original resides.

On Windows and Mac, sometimes the adjusted files are not easy to find because the sorting of files in a folder is on the basis of "Date Created" instead of alphabetized "By Name." You may want to check this. If files are being sorted by name, the file you have worked on should show up right next to the original.

On the Mac, if you use iPhoto to view your images, that program imports images from folders, so the saved image won't immediately appear in iPhoto without importing it. The issue with finding images is that iPhoto requires that images are imported into its library to be able to use them. When Vivid-Pix Picture-Fix works on an image, we don't have any way to directly export into iPhoto, so you will need to import them after you finish saving from Picture-Fix.

One customer came up with this solution. She took the picture from her iPhoto library and dragged it to her desktop. (An alternative would be to drag the images to a specific folder or onto an inserted SD card.) She then directed Vivid-Pix Picture-Fix to select the picture from the desktop and adjusted it. The adjusted image was saved back to the desktop. From there she dragged the Vivid-Pix image back into iPhoto (imported it) and it would save it next to the original. That seemed easier for her.

Another customer decided to use Picture-Fix on images still on his memory card, and then imported them to iPhoto after Vivid-Pix Picture-Fix improved them and saved them back to the memory card.

When iPhoto imports your photos, it makes a copy of the image file that exists in another folder. If that folder is in your computer somewhere in addition to the iPhoto Library, it is accessible by any program, such as Picture-Fix, and any program can use the original image file.

Once the image file is imported (copied) into iPhoto, and the original is no longer available (deleted or SD card removed, etc.) only iPhoto and Apple applications have access to it. The only way for another program to use these photos is as described...a copy must be made from the iPhoto library if you would like to work on it outside of iPhoto. There are ways around this, but you run the risk of corrupting the file structure and library, so they are not recommended. This is the result of how Apple has designed their photo browser, iPhoto.

Vivid-Pix is unable to access the photos in the iPhoto library directly with Picture-Fix. We would love to be able to do this, but Apple does not allow it.
Q: When selecting my favorite 9-up picture, I would sometimes prefer to have a narrower range of picture difference and sometimes a wider range of difference. How can I adjust this?
A: Vivid-Pix standard settings create a moderate range of Lightness / Contrast adjustment. If you desire a different range, click on the "Preferences" button and adjust the Lightness and Contrast. In general, higher numbers will will provide greater differences, and lower numbers, less difference. If you desire a narrower range, we recommend 42 Lightness / 23 Contrast on the PC, and 44 Lightness / 23 Contrast on the Mac. Please note that you must re-select the image again (can't use "reset corrections") for the change to be visible. If you wish to return to the program default setting, simple press "Reset Lightness and Contrast spread".
Q: Do you have an iPad or Tablet version?
A:
We currently do not have an iPad or Tablet version. We are evaluating how to best provide Picture-Fix to our customers on these platforms.
Q: Does the program work on netbooks?
A:
Since our current version does not support resolutions lower than 1270 pixels by 720 pixels, we do not recommend installing on netbooks because the application may not fit on your netbook screen.
Q: Does the program work on RAW images?
A: We currently support only JPEG image files. Supporting RAW images is something we are considering for future versions. Unfortunately, RAW images are not standard, being unique for every camera manufacturer, which means that we will need to do a good deal of work to support multiple RAW formats. We are considering including Adobe DNG files in lieu of multiple RAW formats.
Q: Does the program crop images?
A:
Yes! We recommend that you use the crop feature often, because there is a better (or additionally interesting) picture in every picture.
The easy-to-use crop function is used as follows:
- In the side-by-side view, click on the picture, hold down and drag...then release.
- The right image shows only the crop you have selected.
- Don't like the crop? Click on the image again, make the appropriate selection, and the full image will be displayed once again.
Q: What Macintosh operating systems are supported?
Q: What Windows versions are supported?
A: The following Windows versions are supported:
Windows 10
Windows 7
Ultimate x86
Windows 7 Ultimate N
Windows 7 Ultimate x64
Windows 7 Enterprise x86
Windows 7 Enterprise N
Windows 7 Enterprise x64
Windows 7 Professional x86
Windows 7 Professional N
Windows 7 Professional x64
Windows 7 Home Premium x86
Windows 7 Home Premium N
Windows 7 Home Premium x64
Windows 7 Home Basic x86
Windows 7 Home Basic N Windows 7 Starter x86
Windows 7 Starter N
Windows Vista Ultimate
Windows Vista Ultimate x64 Edition
Windows Vista Enterprise
Windows Vista Enterprise x64 Edition
Windows Vista Business
Windows Vista Business x64 Edition
Windows Vista Home Premium
Windows Vista Home Premium x64 Edition
Windows Vista Home Basic
Windows Vista Starter Ed. Digital Boost
Windows Vista Starter Ed. Digital Boost (x64)
Windows Vista Starter
Windows XP Professional
Windows XP Professional x64 Edition
Windows XP Home Edition
Windows XP Media Center Edition 2005
Windows 8 - 32 and 64 bit (note that not all versions have been tested.)
Q: Do you have any other questions or suggestions?