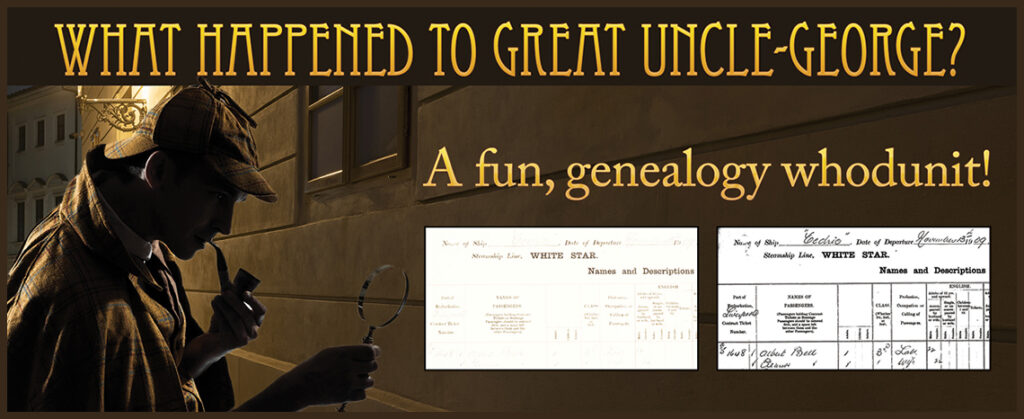 Greetings genealogists!
We've created a fun genealogy whodunit game that combines elements of family history research with the use of our powerful image restoration software.
What's the story?
Following a recent DNA test, you've managed to make contact with a distant cousin named Peter. After chatting via email and meeting up for lunch, you've agreed to help him break down his biggest brick wall of all:
What happened to Great Uncle George?
Over five short chapters, you'll be assisting Peter with his research by analyzing a series of photographs and documents in Vivid-Pix RESTORE software, using its restoration tools to reveal hidden passwords.

Each chapter contains a new email from Peter, furnishing you with fresh clues to solve the mystery!
So, dig your deerstalker out of the wardrobe and prepare yourself for a journey through Edwardian Britain and beyond, complete with crime, cryptic postcards and more!
Sounds exciting! How do I get started?
Firstly, you'll need to download a free trial version of Vivid-Pix using the simple instructions below:
Go to: https://www.vivid-pix.com/restore/free-trial
Click Here if you already have RESTORE and download/update your software to ensure you have the latest version.
Select Mac or Windows
Complete checkout, download, and install
If you have any problems, please ask: [email protected]
At each stage of the journey, you will be provided with a new 'clue image' that needs to be improved using Vivid-Pix RESTORE. Simply click on the link to download the clue image.
All of the game passwords are found concealed within the clue images, so there is no need to carry out additional research using search engines or commercial genealogy websites.
Here's a few additional game play notes to remember once you have started playing:
Do not hit the back button.
Do not refresh your page.
Do not close the game window.
Anyway, that's enough talking for now. To begin the story, simply click BEGIN THE GAME below.
Happy sleuthing!