Scan anywhere, anytime with the Flip-Pal mobile scanner. 
Restore color and clarity to old photos with easy-to-use software from Vivid-Pix.
Record voice memos and create talking images with Flip-Pal's built-in StoryScans software.
Share across multiple social platforms with the click of a button or create high quality keep sakes such as printed photobooks and frame-able prints.
SCAN
The Flip-Pal mobile scanner comes with everything you need to scan right out of the box—the scanner, four AA batteries, 4GB SD memory card, SD to USB adapter, Toolbox software already installed on the SD card, Quick Start User Guide and a one-year limited warranty.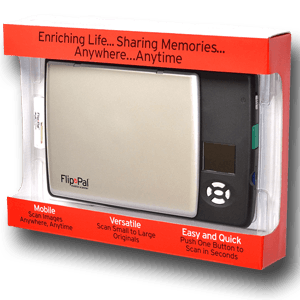 It is the world's original scanner for photos, large and fragile documents, and cherished memorabilia that does not require a computer to operate. Battery powered and stores files stored on an SD card.
Transform images into endearing stories. StoryScans software combines the recorded voice and the scan into a single file that is both small and High Definition (HD).

  

The original voice of the storyteller is forever kept with the image and can be shared universally.
Keep your memories safe using patented flip-and-scan technology. Fragile documents are treated safely on the flatbed rather than fed through a sheet feeder. Take the lid off, flip the scanner over, and use the window to frame the original.
All sizes, small to very large, can be scanned. The included EasyStitch software automatically reassembles multiple scans of larger originals such as portraits, art, documents, and quilts. Small objects such as coins and stamps have high detail.
Quick and easy operation. Just 7 seconds to scan at 300 dpi. Simply turn on the power and press the green scan button. No software to install. No cables. Save hours of time removing photos from their album. Do your first scan in minutes after opening the box.
RESTORE
Do you have faded and yellowed photos in photo albums and scrapbooks? Family history and genealogy records, old school pictures and yearbook photos that are fragile and one-of-a-kind? The Flip-Pal and Vivid-Pix teams have partnered to provide the fast and easy RESTORE software with 1-click improvement to images. Fine-tune with easy-to-use sliders.

Downloaded from Vivid-Pix.com.
Serial Key provided in the confirmation email. For Windows computers.
RECORD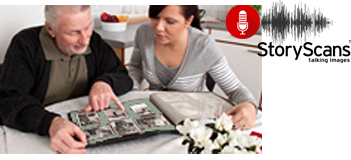 Record voice and combine it with the scanned image to create an image that talks. Easily transform your images into stories.
StoryScans talking images are easy to create. Simply Select the scan, Record the voice, and Save to create the StoryScans file. For your Windows or OS-X computer, use the Flip-Pal Toolbox 4 software. For your iOS device (iOS 7.0 or later, iPhone, iPad, and iPod touch), use the Flip-Pal ScanTools app from iTunes. Available from Google Play for Android devices (phones and pads from Galaxy, LG, Samsung, Sony, and many others).
StoryScans talking images are easy to share. The small file contains both sight and sound and won't get separated when sending via email, posting on social media, or uploading to the cloud. The Flip-Pal Toolbox 4 software includes automated uploads to your account on Facebook, Picassa, Dropbox, or Evernote. On your mobile devices, use your favorite apps to share. StoryScans files are industry-standard mp4 files and do not require an additional player.
SHARE
Share your most precious memories with those closest to you, whether they're in the same room or hundreds of miles away. Once you've restored your old photos, it's easy to share them digitally via email or any social media platform. We've also made it simple for you to print high-quality keepsakes, like frame-able prints or photobooks, so you can relive those memorable experiences such as weddings and vacations for years to come.
Check out our full range of printing services at www.vivid-pix-prints.com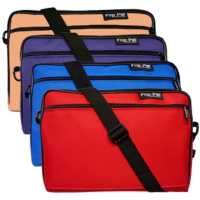 The Deluxe Carry Case has a front pocket that protects your Flip-Pal mobile scanner from wear and tear and keeps you organized while you are on the move. You can use the convenient 5.5-inch deep pocket to store your batteries, battery charger, USB adapter and spare SD cards. The carry case comes in your choice of colors, has foam protective cushioning, has a removable and adjustable shoulder strap and is made of a durable lamination of polyester to a PVC backing with heavy-duty nylon zippers. Available in your choice of four colors.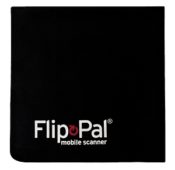 Flip-Pal Cleaning Cloth: Clean fingerprints and smudges from your Flip-Pal mobile scanner with the generous 10" x 10" microfiber cleaning cloth. A plush cleaning cloth, with rounded corners and a screened 2-color logo, easily slides into the pocket of your Deluxe Flip-Pal Carry Case – keeping it handy when you are on the move. Drape it over 3-D objects when scanning them to give a contrasting background.