Restore Your Family History

Product and Gift Solutions
Prepaid Software Gift Cards

Send an Electronic Gift Card
Easy as 1-2-3
1. Purchase the Electronic Gift Card.
2. We send you an email that contains a Gift Card that you forward and can type your special message to the gift recipient.
3. The Gift recipient redeems their gift and can choose Mac or Windows software.
There is NO EXPIRATION DATE so you can send the gift on their special day.

There's nothing like an enlargement on the wall / desk / shelf to relive your memories – or a photobook to hand down / give / place on your coffee table. Our professional lab creates the products you desire and sends them to your home or loved one.

Flip-Pal Scanner / RESTORE Bundle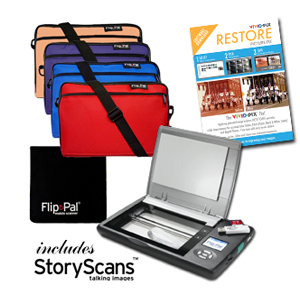 Scan anywhere, anytime with the Flip-Pal mobile scanner.
Restore color and clarity of old photos and documents with easy-to-use software from Vivid-Pix.
Record voice memos and create talking images with Flip-Pal's built-in StoryScans software.
Share across multiple social platforms with the click of a button or create high quality keep sakes such as printed photobooks and frame-able prints.
Restoration Services - COMING SOON!

You've scanned them or taken the photo, but you don't want to fix them. We can help. Simply upload your images and our trained associates will improve them for you.
For just $.25/image, minimum charge $10, receive back RESTORE or SCUBA software improved pics.