Restore Your Family History

Product and Gift Solutions
Prepaid Software Gift Cards

Send an Electronic Gift Card
Easy as 1-2-3
1. Purchase the Electronic Gift Card.
2. We send you an email that contains a Gift Card that you forward and can type your special message to the gift recipient.
3. The Gift recipient redeems their gift and can choose Mac or Windows software.
There is NO EXPIRATION DATE so you can send the gift on their special day.

There's nothing like an enlargement on the wall / desk / shelf to relive your memories – or a photobook to hand down / give / place on your coffee table. Our professional lab creates the products you desire and sends them to your home or loved one.

Flip-Pal Scanner / RESTORE Bundle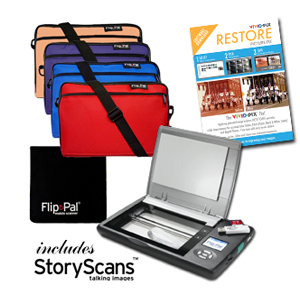 Scan anywhere, anytime with the Flip-Pal mobile scanner.
Restore color and clarity of old photos and documents with easy-to-use software from Vivid-Pix.
Record voice memos and create talking images with Flip-Pal's built-in StoryScans software.
Share across multiple social platforms with the click of a button or create high quality keep sakes such as printed photobooks and frame-able prints.
Learn more from your photos


A simple question about an image can lead to new stories of your ancestors — from the mystery images you find in shoeboxes and albums to the pictures you snap with your digital devices.
As The Photo Detective, I have proven methods for putting names to the faces in those pictures. Techniques that can tell you more about when they were taken, who took them and why.
If you've ever wondered mystery images in your collection, then this course is for you!