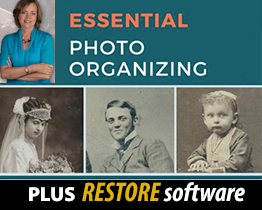 Essential Photo Organizing Video Course
Plus, Vivid-Pix RESTORE software
Description (scroll down)
Inheriting a box (or bushel) of pictures is a big responsibility. Two things happen:
First, you panic and wonder how am I going to have enough time to organize these pictures?

Then, you experience the great joy from knowing that you've been trusted to pass on this heirloom treasure to the next generation.
This new video course covers the basics from tackling those boxes to scanning resolution and storage. A bonus segment covers what to do with all your digital pictures too!
This course is for you if have boxes of family photographs you don't know how to preserve and organized. Feeling overwhelmed by the number of pictures you have is a common problem. If you're like most folks, you have real images from family, scans on your computers and pictures on your phones and tablets too. It is possible to care for all those pictures without losing your mind. All it takes are the right supplies, a place to store them, and some time.
Don't Lose the Past
It would be easy to toss a family photo. You have so many, right? You think, "I don't need this photo." But you do.
All those photos add up to tell the story of your family. By saving them, you are saving the past for the future. All your photos anchor children to family history and lead them on a path of self-discovery and well-being.
Save the Story
That's where my Essential Photo Organizing course comes in. This 7 installment course breaks down the process of preserving and organizing photos into short lessons so you can follow-along as you work with your pictures.
You'll learn how to spot historic photo formats, how to store different types of pictures, how to label them and how to scan them. That's not all. I'll show you how to develop a workflow for scanning, filing and retrieving your images.
The course explains the how-to and includes some downloadable extras. If you have a question, it's easy to send me a message in the course.
Bundle Price: $79.98
Priced Individually: $99.98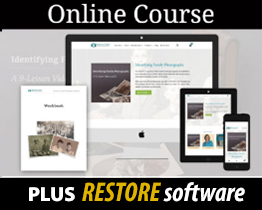 Identifying Family Photographs
A 9-Lesson Video Course
Workbook / Email Support
Plus, Vivid-Pix RESTORE software
What You'll Learn (scroll down)
Lesson 1: The 5 Building Blocks
Explores the basic questions you need to address when researching a photograph.
Lesson 2: Creating A Research Plan
It's always good to have a research plan so that you can check off to-do boxes. This lesson shows you how.
Lesson 3: What Type of Picture Is It?
Not sure what type of images are in your collection. No problem. Watch this video to learn more about picture formats.
Lesson 4: Who's the photographer?
Our ancestors took snapshots, but before that they visited photo studios. Learning when a studio was in business can help you determine a time frame for the image.
Lesson 5 & 6: What are they wearing?
Fashion history is complicated but a lot of fun. You'll learn about hats, hairstyles and what was fashionable when and why.
Lesson 7: Quick Tips
There are photo identification shortcuts. In this lesson Maureen explains the two most popular–tax stamps and stamp boxes.
Lesson 8: How to Add Up the Clues
Once you've watched the other lessons, it's time to look at all the information you've accumulated and see if the facts add up to determine who's in the photo.
Lesson 9: Labeling Pictures
All it takes to save all your hard work is a few photo safe tools and techniques. Maureen explains how to label your pictures so that the next generation will know who's in the photos.
Bundle Price: $158.99
Priced Individually: $178.99