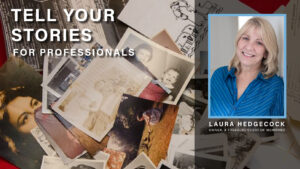 We all want to preserve memories and stories, but good intentions quickly stall out. Discover how to help clients (and yourself) create connectional narratives while enjoying reminiscing with others. Learn how to help others capture and share the moments that matter in this eight-part course!
Designed for group use, this course covers how to choose photos to help tell and elicit stories, use guided reminiscence to elicit stories from loved ones, increase recall, and hone storytelling skills. Each segment ends with additional tips and implementation ideas for professionals.
Laura is an author, storyteller, speaker, and Geneablogger obsessed with family history and passionate about helping others tell their personal and family stories. Her website TreasureChestofMemories.com offers practical tips and resources for telling personal and family stories. She currently serves as President of the 3,400-member GeneaBloggers Organization.