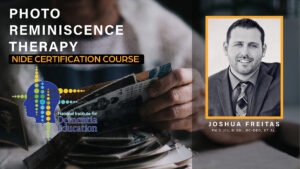 Designed for paid and unpaid caregivers, this certificate series of classes provide instruction that creates connection. Utilizing photographic and mental memories, the afflicted and the caregiver connect and converse by sharing conversation and emotions, resulting in a reduction of isolation, loneliness, depression, and profound improvement in ongoing socialization. Joshua is an award-winning memory care program developer, researcher, and author. His care and training philosophies have been featured in prominent publications, TV, and more. Freitas is Vice President of Program Development at CERTUS Senior living and Chair of the Board for the National Institute for Dementia Education.
General Disclaimer (CLICK HERE to review)
NOTICE: While a certificate of completion conferred in this program is an important indicator of competency,it does not license, approve, or confer authorization to anyone the right to practice where such license or certification is regulated by state, municipality or government entity.
Suggested verbiage that attendees would accept.
I, hereby affirm that I am not required to be licensed or certified to hold my current position, and if I am, I have the proper license and/or certification. I am obtaining an Understanding Photo-based Reminiscence Therapy certificate ("PRT Certificate" / the "Certificate") as an important indicator of competency, understanding of what PRT is, how PRT may be used, and to further my ability to work with others through photo-based interventions. This certificate does not license, certify, approve, or confer authorization to anyone the right to practice where such license or certification is regulated by the state, municipality, or government entity – rather it provides guidance on how to use a therapeutic photo-based intervention.
No Guaranties or Warranties
A PRT Certificate Program focuses on understanding the "therapeutic" benefits of PRT and shall not be considered a treatment therapy. I understand that this training and the instructor have made every effort to ensure that the information provided is accurately represented. The program does not make any guarantee of the following: the accuracy; reliability; completeness; currentness; or timeliness of the content; software, documents; articles; text; graphics; links; or communication provided on or through the use of the literature on this website, by the instructor's knowledge; or a collaborative organization. Any statements describing a future condition or outcome outlined in this approved PRT training are simply our expectations or forecasts for future potential, and thus are not guarantees or promises of the impacts of a PRT session.
Liability Disclaimer: No Professional Advice
The information contained in or made available through the training, websites, or services cannot replace or substitute the services of trained, certified, or licensed professionals in any field, including, but not limited to, mental health, therapy and/or counseling, financial, medical, psychological, or legal fields. The Program does not offer any professional, personal, medical, financial, or legal advice and none of the information contained in the approved Program should be confused as such advice. The Program and any sponsors, speakers, partners, contractors, educators, or any of their affiliates will not be liable for any direct, indirect, consequential, special, exemplary or other damages that may result from participation in the Program or from the use of, or the inability to use, the materials, information, or strategies communicated through the Program or any products or services provided pursuant to the Program, even if advised of the possibility of such damages. Under no circumstances, including but not limited to the negligence of the instructor or material, nor any of the Program's other speakers be made liable for any special or consequential damages that result from your participation in the Program. Whereas You, alone are responsible and accountable for your decisions, actions, and results, and by participating in the Program, You agree not to attempt to hold liable any of the Program's approved speakers, educators, or council members. You are liable for any decisions, actions, or results that You make or experience due to Your participation in a Program at any time, under any circumstance. The Program is for educational use to understand PRT and not for certification as a licensed profession.
Copyright
© 2022 All Rights Reserved. The information contained in this Program's educational materials and approved material, websites, or services is provided for informational purposes only. Content creation was created by the Instructor for creating a system of PRT and understanding the PRT benefits. The Video Production has been developed by Vivid-Pix and the Instructor and is protected by copyright law. You hereby understand that the tools, processes, strategies, materials, and information presented in the Program are confidential, copyrighted, and proprietary information and You agree not to record, duplicate, distribute, teach, or train from the Program materials in any manner whatsoever without written permission. Any unauthorized use or distribution of these proprietary concepts, materials, and intellectual property is strictly prohibited; and Vivid-Pix and/or the Instructor reserve the right to pursue legal action and full damages if these terms are violated.