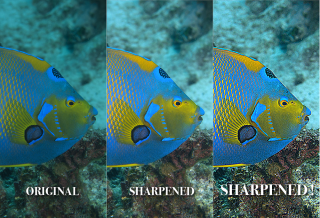 While there are many techniques for sharpening, some yield better results than others. We have selected one with a counterintuitive name...Unsharp Masking. Why? Because it tends to accentuate the important parts to the image without increasing visual noise or graininess.
Unsharp Masking actually began as a clever technique to enhance the sharpness of printed images in the chemical/analog world. Digital Unsharp Masking is uses a similar technique, and works something like this:
- It's good to determine what should be sharpened, so edges are detected. This is in effect "applying a mask" so that only those parts of the image that are significant enough to enhance are subject to sharpening. In other words, those areas that may have small differences from pixels to pixels, like water in the background, are not subject to sharpening, while the intricacies the fish scales are sharpened.
- A threshold is applied. If the change from one part of the image to another at an edge is small, the edge is not sharpened. If the threshold is set high, only major transitions are sharpened. In particular, if you are seeing graininess and pixellation, set the threshold higher.